COVID-19 INFORMATION & RESOURCES
Covid-19 Survey

Hello
I would like you to help me out with a quick 5 question survey that will give me insight into Covid-19 patients, more importantly, their children. I would appreciate it if you were diagnosed or had to be quarantined because you were around someone diagnosed to complete this quick survey. Please if you know someone that is or was Covid-19 positive, please share the survey.
The African American Space Guild will use the information from your response to put together a Survival Kits for Children 4-15 years of age free of charge. Your information will not be shared with any other organization or for any other purpose.
The African American Space Guild staff has taken classes dealing with this disease and are familiar with its symptoms but I cannot imagine the deepness of your pain.
Thank you for your time,
Wilma Hardney, CEO
African American Space Guild
https://docs.google.com/forms/d/e/1FAIpQLScq_pCrbuR0QRJH9NdCQxYZRH2iV0vBEg0mzu43HfvA_JXtBw/viewform?usp=sf_link

We understand the additional stress this causes on our community and want to do whatever is in our power to help alleviate any stress we can. At this time it is imperative that we band together as a community and work for the good of all.

*We will not be taking walk-ins of any kind at this time.*

Take every precaution to lower risk of contamination,
including having a limited amount of staff in the office each day,
sanitizing regularly touched surfaces multiple times daily.
Looking to help?
Visit our donation page and give. Every dollar counts. When we get through this covid-19 phase, there will be a lot of people looking for assistance.
You can help by giving what you can.
MAKE YOUR OWN HAND SANITIZER
Properly washing hands with soap and water for 20sec is the number one recommended preventative measure at this time.
If that is not possible, hand sanitizer with at least a 60% Alcohol content is second best.
Can't find Hand sanitizer? Here are some recipes you may be able to make:
https://www.who.int/gpsc/5may/Guide_to_Local_Production.pdf
https://www.wired.com/story/how-to-make-hand-sanitizer
HYDROGEN PEROXIDE IS AN EFFECTIVE DISINFECTANT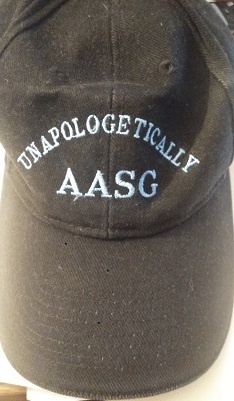 HATS TO HELP FURTHER THE MISSION OF AASG
UNAPOLOGETICALLY AASG
ALL SALES WILL BE USED EXPLICITLY FOR THE
PROGRAMS OF AASG.
AASG has partnered with ShoppingGives. You can shop and donate at the same time. Click on the link and to view the site.

https://shoppinggives.com/communication-elevation/aasguild.
VOLUNTEERS NEEDED;
Come join the African American Space Guild and its friends, supporters, and family in the redevelopment of single-family residences, turning them into livable, vibrant housing for a family in need. Click on the link below to send us your email address for more information.